MAKEUP LOOKS FROM FALL 2014
Looking to update your makeup look for fall? Here are my top 4 beauty looks you have to add to your makeup arsenal.
BERRY LIPS
It's all about berry this season and it doesn't matter how you do it. It's matte, shiny, blue berry, red berry. It's just berry.  Think minimal with everything else, but if you're feeling a bit naked, a darker brow adds to the elegance.
CAT EYES
Gone is smoky, smudgy, blended. Think cat eyes with liner and more liner. You can go soft with a soft gray (the hot trick right now) or go all out with an inky black liner winged all out.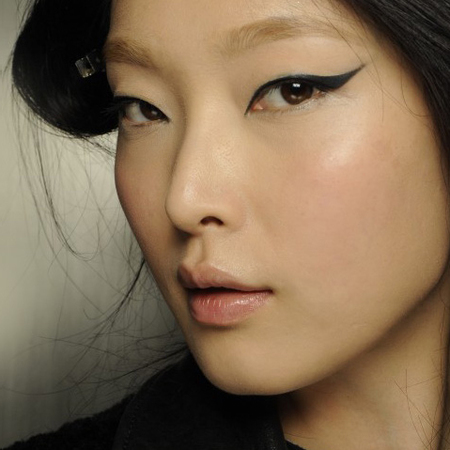 GLITTER LIPS
Along with berry lips, you can also add some glitter to that. A little more adventurous but still looks kinda cool if you ask me.
BOLD BROWS
Yep. It's still in. But what you'll notice this fall is that bold brows are either done very dramatically (as in very dark and thick) or made to look more natural by brushing them up and making them look longer and more brushed out. Think Brooke Shields back in the day. How to get?
Get dramatic:
Get a darker than your brow color pencil or brow shadow and fill in the whole brow, from beginning to end, top to bottom. Think over the top.
Get Brooke like:
Want softer? Fill in your brows with a slightly lighter brow color than your own and then brush in a clear brow wax to create a more feathered brow look. Looks more natural and it's best to stay away from the brow trimming for a while to get this look. Length is in. To set, brush through with a soft spoolie brush and brush up to keep hairs in place. If needed, draw on pencil in sparse areas but only where needed. Remember, the more natural looking the better.
| | | |
| --- | --- | --- |
| | | |
| | | |